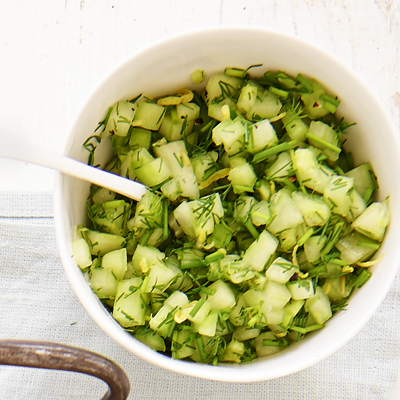 4

Servings
40 min
Cucumber salsa with herbs
Directions
Finely chop the parsley and dill.

Cut the chives into pieces.

Grate and squeeze the lemon.

Halve the cucumber in the length and scrape out the seeds with a small spoon.

Peel the cucumber halves with a peeler and cut them lengthwise into long strips of 0.5 cm thick.

Cut the strips into cubes.

Mix the cucumber cubes in a bowl with the parsley, dill and chives.

Spoon the lemon grater through and season with a little lemon juice and some salt, freshly ground black pepper.

Let the salsa stand for 15-30 minutes at room temperature so that the taste can develop well.

Delicious with chicken and fish dishes.
Blogs that might be interesting