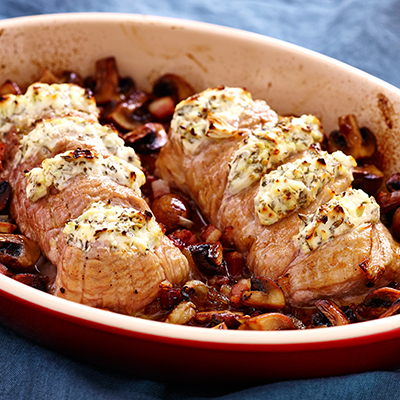 4

Servings
60 min
Spicy pork tenderloins with mushrooms
Ingredients
Directions
Preheat the oven to 175 ° C.

Press the garlic.

Cut the chestnut mushrooms in four.

Chop the onion.

In a bowl, mix the cream cheese with garlic and half of the thyme and oregano.

Fold the thin piece of pork tenderloin double, so that the fillets are just as thick everywhere.

Place the pork tenderloins with the double folded piece down into the bowl.

Sprinkle with salt and pepper.

Make 3 cm transverse notches in the hare of about 2 cm deep.

Fill the notches with the cream cheese mixture.

Divide the mushrooms, the bacon and onion around them and drip the olive oil over it.

Slide the dish into the oven and let the meat slowly cook in 30-40 minutes.
Blogs that might be interesting