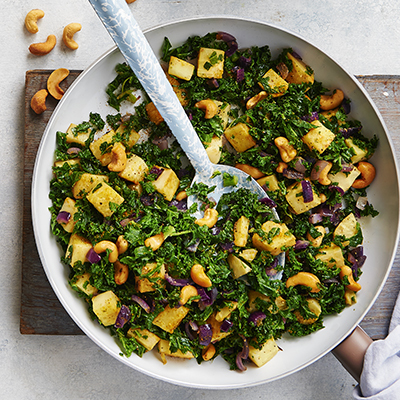 4

Servings
30 min
Stir-fried celeriac with kale and cashew nuts
Ingredients
Directions
Chop the onion.

Cut the celeriac into slices of one and a half cm thick.

Cut the peel off the slices and rinse the slices if necessary.

Cut the slices into cubes of one and a half cm.

Heat the rapeseed oil in a stir-frying pan through the onion, celeriac and curry powder.

Stir fry it two to three minutes.

Then pour in the kale and let the kale begin to shrink.

Add the water with a little salt.

Heat the vegetables for another six to eight minutes until they are al dente, shave regularly.

Let the moisture evaporate.

Finally create the cashew nuts and warm the dish for a while.
Blogs that might be interesting