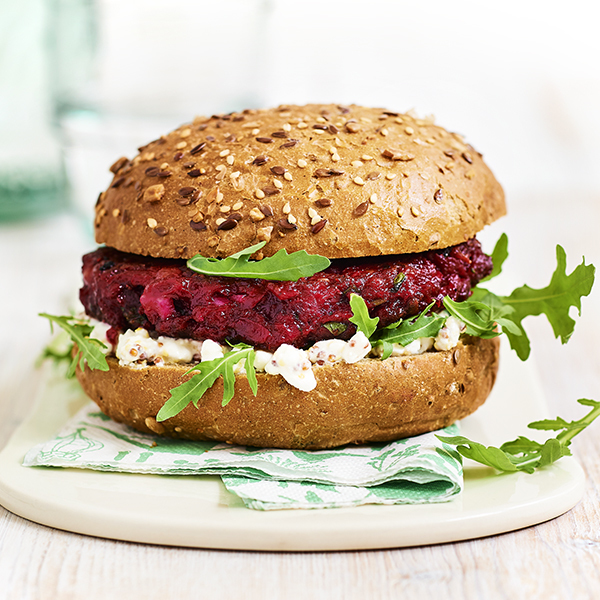 4

Servings
25 min
Roll beet burger
Ingredients
Directions
Finely chop the oregano. Chop the onion. Cut the slices of cheese into pieces of 0.5 cm. Cut the slices of bread with crust into pieces and crumble them (in the food processor). Put the crumbs in a bowl. Rub the skins of the beet and grate the beets coarsely over the bowl or in the food processor.

Mix the grated beet in the bowl with the bread crumbs and the cornstarch. Stir in the cheese, oregano and onion with salt and freshly ground pepper. Break the eggs above and mix everything well into a firm, even mass.

Divide the mass into four equal portions, knead for a while, and form citizens. Bake the burgers in a frying pan with olive oil in 4-6 minutes brown and done. Turn them carefully after 2-3 minutes using a spatula.

Mix the hüttenkäse in a bowl with mustard. Cut open the buns and brush the cut surfaces generously with hüttenkäse. Place the bottom sides on plates. Divide the arugula over it and place the burgers on it. Place the tops of the sandwiches at an angle.
Blogs that might be interesting