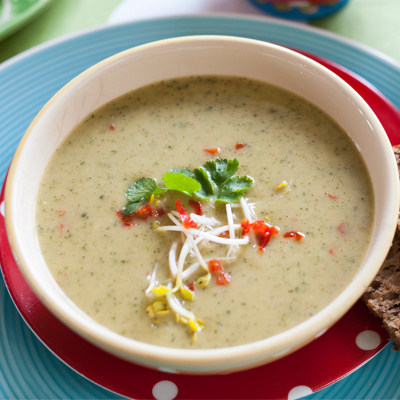 6

Servings
40 min
Zucchini coconut soup
Ingredients
Directions
Cut the onion coarsely and cut the garlic into slices.

Cut the zucchini into pieces.

Cut the red pepper into strips.

Grate the ginger.

Heat the olive oil in a soup pot.

Fry the onion gently in 4 minutes.

Add the garlic and zucchini, scoop and fry for 5 minutes.

Pour in the vegetable stock.

Add the red pepper and the grated ginger.

Put the lid on the pan and cook over medium heat for 20 minutes.

Puree the soup with the hand blender.

Add the coconut cream.

Season with salt and pepper.

Add some boiling water if the soup is too thick.

Garnish the soup with grated coconut, coriander leaves (or flat parsley) and red pepper rings (without seeds).

Serve with bread, pesto and herb butter.
Blogs that might be interesting